sponsor content What's this?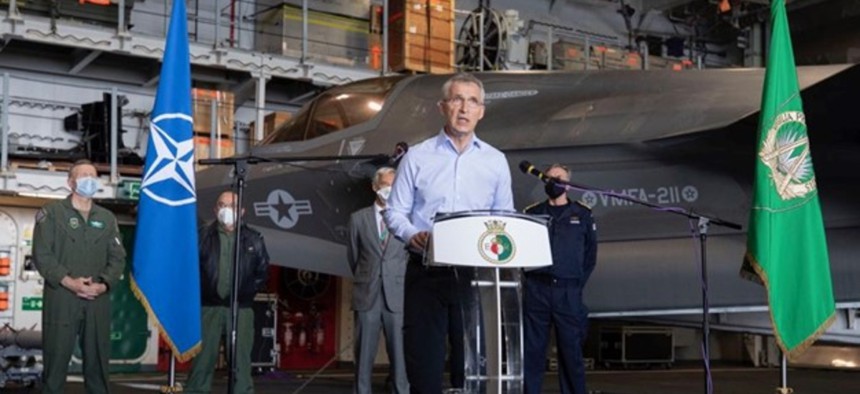 Presented by Lockheed Martin
The North Atlantic Treaty Organization (NATO) exercise Steadfast Defender 2021 brought together nine thousand troops from 20 nations to prove the readiness of forces from the alliance. With deployments across land and sea from North America to the Black Sea region, this exercise "demonstrates that NATO has the capabilities and the resolve to protect all Allies against any threat," said Jens Stoltenberg, NATO Secretary General.
Playing a key role in the exercise were F-35 squadrons from the Italian and Israeli Air Forces, as well as two F-35 squadrons from the U.S. Marine Corps and Royal Air Force, currently on board HMS Queen Elizabeth as part of the U.K.'s Carrier Strike Group 2021 deployment.
This exercise – and many more like it – has demonstrated how the 5th Generation F-35 is strengthening NATO air power, enhancing allied partnerships and driving economic progress. The F-35's growing presence across Europe is a powerful example of alliance-based deterrence – setting the foundation for next generation NATO air power.
"We will probably be in a position in Europe…by approximately 2030 to have 450 F-35s. That's a tremendous capability, and if I were a potential foe against NATO or Europe, I wouldn't like to hear that," said Gen. Tod D. Wolters, Commander of U.S. European Command and NATO Supreme Allied Commander Europe on June 9. "With each passing day, we're finding better ways to unite nations that possess F-35s to improve our speed and posture in the air domain."
The F-35 delivers unmatched interoperability and the ability to forward-deploy and operate in hostile environments, side-by-side with allies. As adversaries advance and legacy aircraft age, the F-35 is critical to maintaining air dominance.
Strength, in Numbers
With more than 200 F-35s delivered to international operators, the impact of the global fleet is substantial. The growth of the international F-35 fleet serves as a beacon of allied capability and partnership, bringing nations together to collaborate and strengthen global security.
NATO members in the F-35 program of record include Belgium, Canada, Denmark, Italy, the Netherlands, Norway, Poland, the United Kingdom and United States. By 2035, more than 500 F-35s will be stationed on the European continent across NATO member bases.
Unprecedented Interoperability
The F-35 provides a network effect across NATO as multiple allies transform their 4th generation fleets into the advanced 5th Generation capability.
The collective fleet of F-35s across NATO countries share information seamlessly among aircraft, naval systems and ground assets, serving as a key node in the Joint All Domain Operations (JADO) battlespace. The F-35's ability to enter contested battlespace undetected ensures that NATO forces evade modern air defense systems.
With users learning transformational, 5th Generation tactics, the F-35 is significantly increasing NATO's deterrent capability. Recent multinational exercises have demonstrated the transformative effect of a multi-country 5th Generation fleet for NATO:
In March, Norwegian F-35s demonstrated "cross-platform data-sharing capabilities" with U.S. Air Force B-2 bombers off the coast of Iceland, where Royal Norwegian Air Force F-35As subsequently concluded a three-week NATO Icelandic Air Policing mission.
That same month, the F-35 Joint Program Office delivered a flight clearance recommendation to the Italian Navy for the safe operation of F-35Bs on the upgraded Italian Navy flagship aircraft carrier ITS Cavour
The U.K.'s Carrier Strike Group 21 deployment will offer multiple opportunities for F-35s to demonstrate interoperability between the U.S. and U.K., and with nations across the NATO alliance. "The U.K. stands amongst our most stalwart and capable allies and this deployment enhances the deterrence and defense capabilities of the NATO Alliance," said Col. Simon Doran, U.S. Senior National Representative to the Carrier Strike Group.
In May, during exercise Astral Knight 21 – a joint, multinational U.S. Air Force-led exercise – American and Italian F-35s demonstrated the F-35's JADO capabilities by integrating with 4th generation NATO assets and providing unmatched situational awareness.
Alliance in Action
In May, Italian Air Force F-35As took over NATO's Baltic Air Policing mission – the first time Italian F-35s have deployed to Estonia, and the first time 5th Generation aircraft have supported NATO's mission in the Baltic States. Shortly thereafter, Italian Air Force pilots supporting NATO's Baltic Air Policing mission executed the first intercept by an F-35 under NATO orders in the Baltic Sea.
"The integration of the F-35 advanced capabilities demonstrates how the Allies bring their cutting-edge technology and support NATO's enduring defensive mission in the region," said Brigadier General Andrew Hansen, Deputy Chief of Staff Operations, NATO Allied  Air Command.