It's the end of an era for Afghanistan.
After 12 years under rule by President Hamid Karzai, the war-weary nation heads to the polls this weekend to choose its second democratically elected leader, paving the way for Afghanistan's post-war future.
The vote also marks the end of an era for United States troops who have fought for the past 12 years in America's longest war. The next mission, to help Afghanistan peacefully complete the transfer of power from Karzai to a successor while keeping the Taliban at bay, will be the most crucial of the entire war.
U.S. military officials have been laser-focused on this weekend's election, while continuing to send home thousands of American troops. "We've all been pressed to make sure that we actually get everybody in the right place at the right time," Brig. Gen. Jim Blackburn, U.S. Army III Corps commander, told Defense One in a phone interview from Kabul. Blackburn said U.S. and NATO forces have been helping Afghans deliver ballots and election materials, but there will be very little American presence on the day of the election. Afghans are in the lead, he said, and the U.S. doesn't want to be seen as influencing the vote.
Blackburn believes the Afghans are ready. "The Afghan security forces are confident," he said pointing to recent events that Afghan soldiers and police kept safe, including last year's massive Loya Jirga meeting and several big soccer and cricket matches. "This one will be no different. There will be some support, but they have the capability."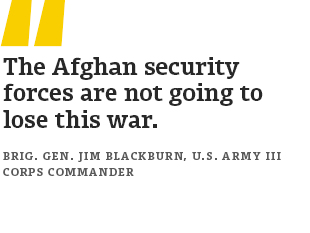 But it will be up to foreign forces to cover Afghans with close air support, which is considered among the most crucial needs for this weekend. "This is a massively, massively important strategic event," Air Commodore David Cooper, International Security Assistance Force's joint command director of air operations. "We've been working very hard in the last few months. It's all come to fruition now." Afghanistan's air force is improving every day, Cooper said. The nascent force has become more adept at supplying logistics, conducting casualty evacuations and transporting troops to operations. Cooper said the U.S. would only step in with close air support on Election Day if absolutely necessary. "We want to be impartial, we're really sensitive to that,' he said.
And now that the post-2014 mission is up in the air, future training of the air force is too. The U.S. had been working on a 10-year plan to stand up an Afghan air force from 2006 to 2016. "We are making the absolute most of this year," Cooper said.
Afghans have stepped up security in the days leading up to Saturday's vote, increasing the number of checkpoints and searches. For American troops, the election is seen as a test of whether the Afghans are ready to do it on their own. "Certainly the enemy will try to disrupt [the election]. They will fail. They fail time and time again. Will there be an uptick in violence? Probably so, but the Afghans are ready," Blackburn said. "The Afghan security forces are not going to lose this war."
The U.S. isn't calling the shots anymore. And now the fate of Afghanistan lies with Afghanistan – and so does the legacy of America's longest war.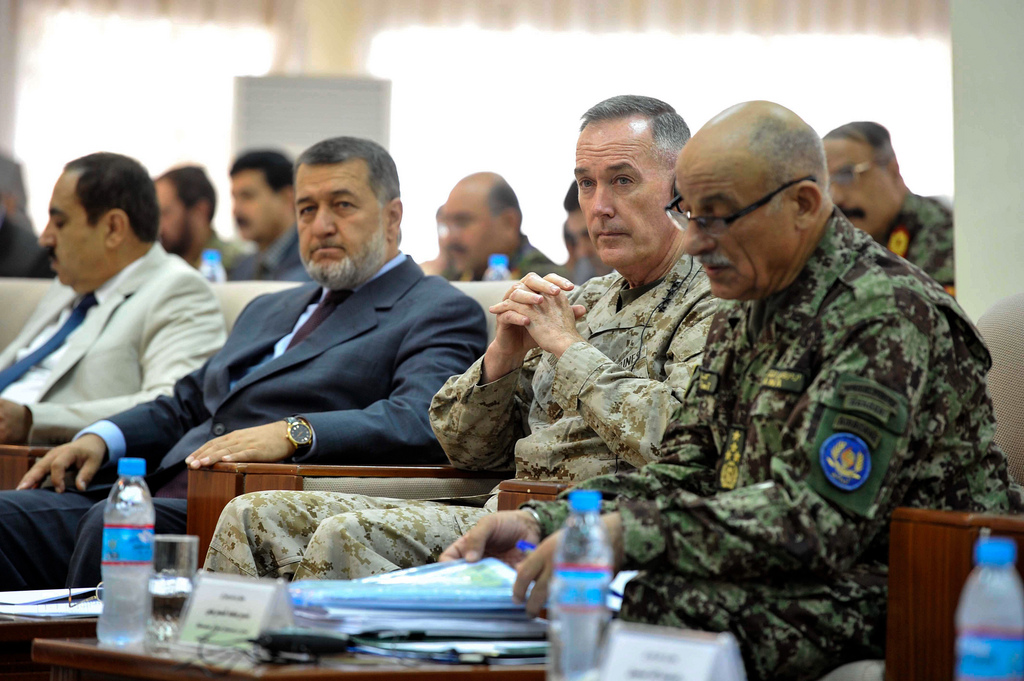 The specter of the Iraq War is still fresh in the minds of U.S. military leaders who have been watching closely as violence in Iraq continues to worsen since the 2011 withdrawal, exacerbated by the neighboring civil war in Syria. Critics blame President Barack Obama for failing to reach a post-war agreement to keep U.S. and NATO forces in country to help train the Iraqi army and police, and conduct counterterrorism operations against al Qaeda and its affiliates. Since the last U.S. combat troops exited at the end of 2011, Iraqi Prime Minister Nouri al-Maliki has shunned American assistance, wanting to project sovereignty over his nation. He's also shunned the Sunni population, who fought alongside U.S. soldiers and Marines to oust al Qaeda during the Anbar Awakening, creating a rift that has allowed militants to flourish again in hard-won places like Fallujah and Ramadi.
Still, Obama promised to end the unpopular Iraq War and he did. Now, he's vowed to bring the remaining 33,000 troops home from Afghanistan by the end of this year, as planned. And with Iraq still in the rear-view mirror, it's this final mission that's ultimately the one that matters the most – to help set up Afghanistan for success so it doesn't spiral into worse violence, like in Iraq, or become a safe haven for terrorists to plot attacks against the United States.
Can Afghanistan protect its people, continue to build a democratic and transparent government and stave off the Taliban on its own? Or will the Taliban wait it out and stage a comeback, throwing the country into yet another bloody civil war? Gen. Joseph Dunford, the top U.S. military commander in Afghanistan, is optimistic.
"Since the day I started prepping for this assignment, people have talked to me about a civil war and so I've looked for indications of a civil war. I've looked for indications of ethnic divisions that would lead to a civil war. I would just tell you, after just about 14 months, I haven't seen that," Dunford said at a March briefing at the Pentagon. "I don't see any indication of the government collapsing in 2015."
Dunford has recommended a force of 8,000 to 12,000 U.S. and NATO troops to remain past the official end of the war on Dec. 31, and continue to train and advise the Afghan army and police and conduct counterterrorism operations, especially along the lawless border with Pakistan. Karzai has agreed, in principle, but the unpredictable Afghan leader has refused to sign a bilateral security agreement, or BSA, governing U.S. forces in his country. Obama has said Karzai's reluctance forced U.S. and NATO commanders to begin planning a full withdrawal, should that be required.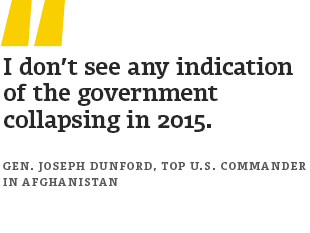 Karzai knows his legacy is on the line. His spokesman, Aimal Faizi, told Defense One that while security remains a challenge for the April 5 election, Karzai is "committed to have a free, fair and inclusive elections. It is strongly related to the legacy of President Karzai to make sure and do all to have good elections in Afghanistan."
Recent polls show that Abdullah Abdullah, who narrowly lost against Karzai in 2009, and Ashraf Ghani, a former professor at Johns Hopkins University, are in the lead. All of the candidates in Saturday's presidential election said they would sign the BSA, but the transfer of power could take months, especially in the event of a runoff. Dunford said if the BSA isn't signed by September, it will be difficult to plan for a post-2014 presence. He said he needs at least 102 days to make it happen.
"Here's where September comes in and why we describe it as high risk in September. We went back and we did the math, and we said, all right, how much equipment do we have? How many airplanes can you land every day? How many airplanes do you need to lift this equipment out? How many people do we have? And so on and so forth. And we have about 102 days worth of work to do. So it takes about 102 days, and that's taking home all the equipment, taking home the people, eliminating hazardous materials, taking care of all the unexploded ordnance, making sure that we've transferred the bases that we have properly over to the Afghans. That's all about 102 days," he explained.
Karzai knows the Obama administration wanted a decision last year. In refusing to sign the BSA, he's playing to his base of supporters who want total Afghan sovereignty while keeping the meddling U.S. military on its toes planning at once for a complete withdrawal or a post-2014 presence.
Joint Chiefs Chairman Gen. Martin Dempsey, in an interview on PBS NewsHour, said a signed BSA is necessary now "because we need a demonstrated statement of commitment from the Afghans that they're going to treat us like partners and not, on occasion, accuse us of being occupiers."
Dunford said Karzai is playing hardball for another reason: the BSA is one of his last remaining bargaining chips in the peace process with the Taliban. "All I can tell you is what he says, not what he thinks … and what he says is that he wants to be sure that there's a viable peace process in place before he signs the bilateral security agreement. In his mind, there's a possibility that once we sign the bilateral security agreement, that our incentive for making sure there's a stable, secure, unified Afghanistan would be reduced as a result of signing the BSA, because we would have what we want but we wouldn't have helped deliver what he wants, which is peace."

"Now, I would tell you that if our nation could bring the Taliban to the peace process, we would do that," Dunford said. "My own assessment is that the conditions aren't necessarily set right now for the Taliban to come to the peace process because they believe we're leaving at the end of 2014, and so their incentive [is to wait]."
Essentially, he said, what Karzai's roadblock means is that "the Taliban have a veto over the BSA, if you follow the logic," and, therefore, a hand in whether the U.S. military will stay in Afghanistan or not.
(ISAF photo)