Author Archive
Bilal Y. Saab
Middle East Institute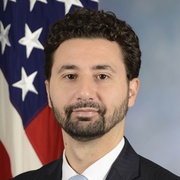 Bilal Y. Saab is senior fellow and director of the Defense and Security Program at the Middle East Institute. He previously served as a senior advisor for security cooperation with oversight responsibilities for the U.S. CENTCOM Area of Responsibility in the Pentagon's Office of the Under Secretary of Defense for Policy.
Ideas
The Pacific pivot need not reduce Middle East security—if the U.S. can get its partners on board.
Bilal Y. Saab and Barry Pavel
Ideas
Think fewer troops, more institution-building.
Ideas
A solid defense needs a potent deterrent, which requires a credible offense.
---
Ideas
Why now? And are the combatant commanders on board?
Ideas
Now that Qatar is asking for the jet, it's time to consider an entirely different approach to helping Gulf nations defend themselves.
Ideas
With allies and direct lines to Beijing, Washington must do more to keep China's presence in the region from becoming a threat.
Bilal Y. Saab and Joseph Votel
Ideas
Riyadh has military options for retaliating against Iran. The Trump administration needs to persuade Saudi leaders not to use them.
Ideas
We must reintegrate arms exports into the U.S. foreign-policy process — and do a far better job of explaining why than the Trump administration has managed so far.
Ideas
The U.S. can't be the sole guardian of the Gulf forever. It's time to bring in some more friends.
Ideas
Time is not on Washington's side, despite greater clarity of the military, political and economic efforts it will take to defeat the Islamic State. By Bilal Y. Saab
Ideas
Stop pretending, U.S. partners in the Persian Gulf don't trust each other or agree on Iran. By Bilal Y. Saab
Ideas
It's not the size of the fleet, it's how you use it, and PC ships are smaller, more agile and better for Mideast allies. By Bilal Y. Saab and Joseph Singh
Bilal Y. Saab and Joseph Singh