Author Archive
Frank Konkel
Executive Editor, Nextgov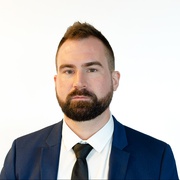 Frank Konkel is Nextgov's executive editor. He writes about the intersection of government and technology. Frank began covering tech in 2013 upon moving to the Washington, D.C., area after getting his start in journalism working at local and state issues at daily newspapers in his home state of Michigan. Frank was born and raised on a dairy farm and graduated from Michigan State University.
Business
The new cloud's data centers are "more than 1,000 miles" away from the northern-Virginia complex that serves U.S. intelligence and defense agencies.
Policy
A Microsoft protest of the decision has revealed some details about the U.S. intelligence community's second multi-billion dollar cloud award of the year.
Business
The Defense Department will opt for a new multibillion-dollar, multi-vendor contract.
Frank Konkel and Mila Jasper
---
Threats
The risk-averse agency has cracked small-scale remote handling of secret and top-secret information. The challenge is doing it at scale.
Science & Tech
Just "one database contained more than 13 terabytes of data." Amazon moved the entire system in 10 months, eight ahead of schedule.
Science & Tech
Amazon Web Services said the Pentagon's plan to fix the Joint Enterprise Defense Infrastructure cloud contract is not enough.
Science & Tech
Amazon Web Services also wants to hear from Defense Secretary Mark Esper and has asked for White House communications in its case against the Defense Department.
Science & Tech
The latest twist in the Pentagon's JEDI cloud contract could halt further action.
Threats
Agencies will send samples to the FBI's databases for indefinite storage.
Science & Tech
In July, the president made highly unusual remarks about the competition for the giant cloud-computing contract.
Business
The ruling against Oracle allows the government to award the contract in August to Microsoft or Amazon Web Services.
Business
Spending data from the Government Accountability Office confirmed last year's predicted spending spree and early fiscal 2019 data suggests historical spending levels continued.
Science & Tech
The Defense Department is trying new methods of engagement to recruit young techies.
Science & Tech
IBM becomes the second company to file a pre-award bid protest against the Pentagon's multibillion cloud contract.
Policy
It's use-it-or-lose it season for the federal government.
Science & Tech
MilCloud 2.0 is about to host a lot more data, and the Defense Department wants ideas for how to get it there faster.
Science & Tech
The goal is to train pilots and other crew members on how to respond to shoulder-fired missiles and rocket launchers.