Author Archive
Gen. Dave Goldfein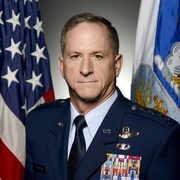 Gen. Dave Goldfein is chief of staff of the U.S. Air Force.
Ideas
America's most active services in the region have a four-part plan to support the National Defense Strategy.
Barbara Barrett, Gen. Dave Goldfein and Gen. John W. Raymond
Ideas
Pass a bill, top leaders tell Congress, warning another delay would 'reverse' badly needed expansions, upgrades, and readiness needed to fight the ISIS War.
Lisa Disbrow and Gen. Dave Goldfein
Ideas
The chief of the U.S. Air Force describes a speed-infused future of combined arms — across domains and entire partnerships.
---
Ideas
Busier but smaller than ever, the Air Force needs higher bonuses and more family time to help compete with commercial airlines and the economy.
Deborah Lee James and Gen. Dave Goldfein