Author Archive
Joseph Votel
Former Commander, US Central Command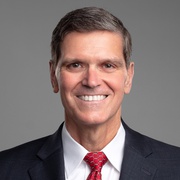 Gen. (ret.) Joseph Votel, U.S. Army, is president and chief executive officer of Business Executives for National Security and a nonresident distinguished senior fellow on national security at the Middle East Institute. He served as the commander of U.S. Central Command until 2019, overseeing all U.S. military operations in the Middle East and Central and South Asia. Before that, he commanded U.S. Special Operations Command and the Joint Special Operations Command.
Ideas
I was among the first to parachute into Afghanistan in 2001. This is how I will remember the war.
Ideas
With allies and direct lines to Beijing, Washington must do more to keep China's presence in the region from becoming a threat.
Bilal Y. Saab and Joseph Votel
Ideas
Only a multinational effort can meet this unprecedented threat, say the authors, who led U.S. troops and international coalitions in the Middle East and Asia.
Joseph Votel and Samuel J. Locklear III
---
Ideas
Fighting ISIS just got harder—but it's still possible, and it's necessary.
Joseph Votel and Elizabeth Dent

, The Atlantic
Ideas
Trump's decision "threatens to undo five years' worth of fighting against ISIS and will severely damage American credibility and reliability," writes Joseph Votel, who until March led America's forces in the Mideast.
Joseph Votel and Elizabeth Dent

, The Atlantic