Author Archive
Tom Shoop
Editor at Large / tshoop@govexec.com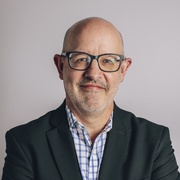 Tom Shoop is the former executive vice president and editor in chief at Government Executive Media Group, where he oversaw editorial operations at Government Executive, Nextgov, Defense One and Route Fifty. He started as associate editor of Government Executive magazine in 1989; launched the company's flagship website, GovExec.com, in 1996; and served as editor in chief from 2007 to 2021. He can be reached at tshoop@govexec.com.
Ideas
Two lives intersect in a story of baseball, military service, and American society in the Korean War era.
Ideas
Trump says if he loses, he won't help hand over power, and if he wins, he'll root out government employees he deems disloyal to him.
Threats
The U.S. military's intel chief describes a shift from "secret wars" to "low-visibility wars."
---
Business
Pentagon officials say they're committed to overhauling the personnel system by the end of the Obama administration.
Business
We should be very careful about generalizing from a genuine problem with veterans care to a broad conclusion that VA is failing veterans across the board. By Tom Shoop
Business
"Up close, Congress is truly ugly," former Defense Secretary Bob Gates writes in his new memoir. By Tom Shoop
Ideas
Pilots don't just want bonuses, they want to be able to fly, says acting Secretary Eric Fanning. By Tom Shoop
Business
The Washington Post apologizes for characterizing an officer as "thickset." By Tom Shoop
Business
President Obama issued an alternative federal pay plan late Friday that gives troops a 1 percent pay increase in 2014. By Tom Shoop
Business
Retired Air Force Secretary Mike Donley will lead a panel that's been directed to reduce the Office of the Secretary of Defense's budget by 20 percent. By Tom Shoop
Business
All the strategy and planning in the world doesn't matter if you can't get things like payroll processing right. By Tom Shoop