Tanks Cross Border from Russia as New Ceasefire Is Signed
An all-night peace summit yielded an agreement to de-escalate violence in Ukraine even as tanks crossed into the country from Russia overnight.
There are plenty of reasons to be pessimistic about the new Ukrainian ceasefire that was signed in Minsk, Belarus, on Thursday morning after nearly 17 hours of negotiations. The first is the fact that there was already a ceasefire signed in Minsk, Belarus, back in September, which failed to end the violence between Ukrainian forces and pro-Russian separatists in eastern Ukraine.
Here's what things looked like then: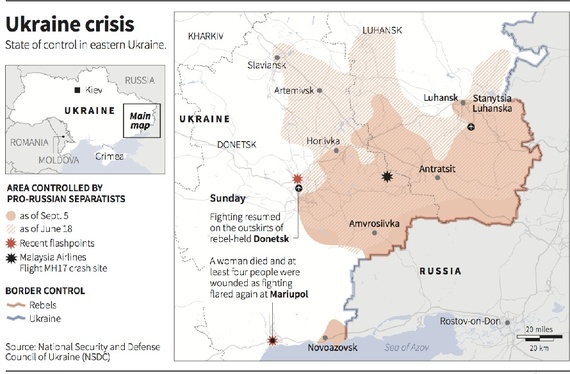 And here's what they look like now: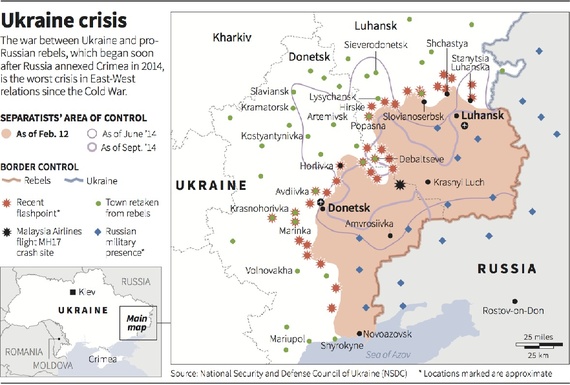 Earlier this month, the violence had intensified to the point that the White House was openly talking about arming Ukraine for the first time, echoing previously resisted pleas from lawmakers on both sides of the aisle. (A Wall Street Journal report on Wednesday predicted that arming Ukraine could take months.)
The new ceasefire, which was brokered by German Chancellor Angela Merkel and French President François Hollande, will go into effect at midnight on Saturday. It calls for the withdrawal of heavy artillery from eastern Ukraine and the establishment of a demarcation line between Ukrainian troops and pro-Russian separatists.
However, Merkel glumly characterized the agreement as only providing a "glimmer of hope" for ending the 10-month crisis, during which more than 5,000 people have died. Tellingly, even as Russian President Vladimir Putin was negotiating in Minsk, the Ukrainian military said that 50 tanks and 40 missile systems were spotted crossing into Ukraine from Russia overnight.
"The enemy continues to strengthen its forces in the most dangerous areas, especially in north-east Luhansk region and in the direction of Debaltseve," Ukrainian military spokesman Andriy Lysenko said .
Meanwhile Thursday's agreement is being portrayed as a ceasefire stocked with pro-Russian spoils. As Reuters noted , under the terms of the agreement "Ukraine will ... get control of its border with Russia, but in consultation with the rebels and only after the regions gain more autonomy under constitutional reform by the end [of] 2015."
Bloomberg's Leonid Bershidsky explained the deal also "means the pro-Russian forces get to keep all they have won in the period since September, and all they will probably add in the next two days, during which fighting will still be permitted, according to the document."
The good news for Ukraine is that as the ceasefire was signed, the International Monetary Fund announced it would give the Ukrainian government a $17.5 billion loan to help it stave off bankruptcy. Ukraine's currency has continued to plummet throughout the crisis, which Ukrainian President Petro Poroshenko has said is costing the country $8 million per day.
"It was not the best night in my life," Putin told reporters after the officials ended their overnight negotiations.