Author Archive
Jacqueline Feldscher
Senior National Security Correspondent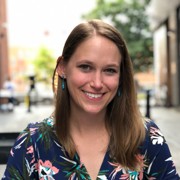 Jacqueline Feldscher is senior national security correspondent at Defense One. Previously, she was national security and space reporter at Politico. Before that, Feldscher covered defense issues in Congress and at the Pentagon for the Washington Examiner, the Washington Times, and Navy Times, covering the Navy and Coast Guard. She's a graduate of Boston University, and holds a master's in journalism from the Medill School of Journalism at Northwestern University.
Policy
The proposed amendments to the NDAA include ideas on Afghanistan, China and extremism in the ranks.
Policy
The ambassador says Australia can no longer be a "passive recipient" in today's strategic environment.
Policy
Anti-war activists and conservative hawks both want women to stay out of the Selective Service System.
---
Policy
Four of the past 10 NDAAs passed the Senate in November or December.
Threats
New post is intended to champion climate considerations inside and beyond the Department, Kahl says.
Threats
Former defense officials called it a "missed opportunity."
Threats
Kahl says ISIS-K might be able to strike in less than 12 months; AQ in one to two years.
Patrick Tucker and Jacqueline Feldscher
Threats
Agencies vow to heed climate change in all strategy planning, but experts say that won't be enough.
Threats
In his confirmation hearing, Nicholas Burns also talked about more American help for Taiwan and NATO's views on China.
Policy
Just two Biden ambassadors have been confirmed so far.
Threats
The Afghan people could rise up if food shortages, access to medical care and unemployment worsen without international help.
Threats
"That's where they see this rallying cry and their opportunity. Now it's 'time to buy a gun, run people over with a car,' do whatever they're going to do," an FBI official said Tuesday.
Threats
"It's taking the top slot from the counterterrorism mission over the past 20 years," said John Doyon, executive vice president of INSA.
Policy
"Do you believe every Republican in the GOP...are they all racist?" Sen. Dan Sullivan asked Brenda Fulton.
Policy
The Senate is "falling far behind" as Armed Services and Foreign Relations Committees consider 14 nominees this week.
Policy
Lithuania built Camp Herkus to woo a permanent contingent of American troops. But the Biden administration is far from convinced.
Policy
Sen. Tammy Duckworth says a nonpartisan commission could compile lessons without the "political theater."
Threats
The president's remarks on human rights, freedom of navigation, and authoritarianism were a thinly veiled message to Beijing.
Policy
What matters in American politics is not what matters to Tokyo.
Policy
The withdrawal from Afghanistan "opens the chapter" for diplomacy, a senior administration official said.