Author Archive
Jerry Hendrix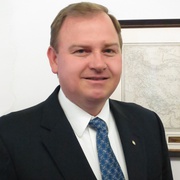 Ideas
As it searches for a good design at a good price, the Pentagon should bear in mind decades-old lessons about manufacturing's ties to national security.
Robert C. O'Brien and Jerry Hendrix
Ideas
As in the 19th-century American West, the government must recognize its limited yet crucial role in fostering the nation's interests in space.
Jerry Hendrix and Adam Routh
Ideas
The fleet's problems stem from decades of flat acquisition budgets and declining ship numbers.
---
Ideas
The only problem with the B-21 Raider acquisition strategy is that the minimum purchase should be 164 of the stealthy jets, not 100.
Ideas
Before the US Navy spends another billion dollars on prototype UAVs, it should wring more lessons from its existing fleet.
Ideas
Attention, Congress: there are a range of alternatives to the RD-180, none of which run through Moscow.
Ideas
The LCS is bringing needed numbers — and following the paths of very successful ship classes.
Ideas
The U.S. Navy must get ready for big new Chinese ships that will try to ram Americans who approach their fake islands.
Ideas
Authoritarian regimes are taking advantage of US passivity to gain territory, a phenomenon many thought extinct.
Jerry Hendrix and Bryan McGrath
Ideas
To allow China to continue to expand its role and expectations invites future conflict on a larger scale.
Ideas
Much can be done to improve the U.S. defense posture in the Pacific, and for not much money.
Shawn Brimley and Jerry Hendrix
Ideas
The Navy has long known it must replace the Ohio-class Boomers, so why hasn't it budgeted for it? By Jerry Hendrix
Ideas
The Navy is far from rudderless. In fact, it's a victim of it's own overwhelming success. By Jerry Hendrix