Obama Requests 'Smaller' $500 Billion Defense Budget
President Obama's fiscal 2015 budget request, released on Tuesday, vows to field a smaller military and still protect the nation by projecting a global force. By Stephanie Gaskell and Kevin Baron
President Barack Obama released his fiscal year 2015 budget on Tuesday, calling for $495.6 billion for the nation's military -- just $4 billion less than fiscal 2014 enacted levels, and still below the $496 billion cap set by Congress under the Bipartisan Budget Act. Obama's budget cuts the size of the military's ranks and cuts into most major weapons buying accounts, as expected, in exchange for, the Pentagon argues, maintaining technological advances and as much training and so-called "readiness" as possible to allow the Pentagon to respond to unexpected conflicts.
Much of the president's defense spending intentions were revealed last week in a preview of the request given by Defense Secretary Chuck Hagel. On Tuesday, Hagel called the defense budget request "responsible, balanced and realistic. It matches our strategy to our resources."
Obama's budget plan quickly ran into a partisan wall from lawmakers either praising the request as a sensible post-war budget or a criticizing it as a short-sighted overreaction to war weariness. The Pentagon's annual five-year budget plans for years have been pitched as a post-war shift of the United States' focus away from counterinsurgency operations in Afghanistan and Iraq to check the spread of global terrorism, China's rising strategic interests and Iran's nuclear ambitions. Instead, the 2015 request comes during a sudden resurgence of Cold War geopolitics, with Western powers embroiled in a standoff over Russia's invasion of the Ukraine, where Secretary of State John Kerry is currently visiting.
Back at the Pentagon, despite immediate events, Obama's budget reflects a military that continues "rebalancing" after more than a decade of war while facing continued reductions of about $50 billion a year under sequestration. The president is also planning to create a $58 billion "Opportunity, Growth and Security Initiative" that will be paid for by "a balanced package of spending and tax reforms." Of that, $26 billion would go to the Pentagon.
"The president's budget provides a balanced and responsible path forward given continuing fiscal uncertainty. It reflects the strict constraints on discretionary funding required by the Bipartisan Budget Act in FY2015, but it does not accept sequestration levels thereafter, funding the department at about $115 billion more than projected sequestration levels through 2019," DOD officials said in budget documents.
Pentagon officials argue that the budget request creates a "balanced" force that is "smaller, more agile, flexible" – terms that Joint Chiefs members have used for several years. They claim that this spending request "will allow the military to protect and advance U.S. interests … but with somewhat increased levels of risk for some missions." The risk, they say, is in reduced training time for troops in the short term, and reduced ability to adapt to unexpected conflict for the Pentagon in the long term.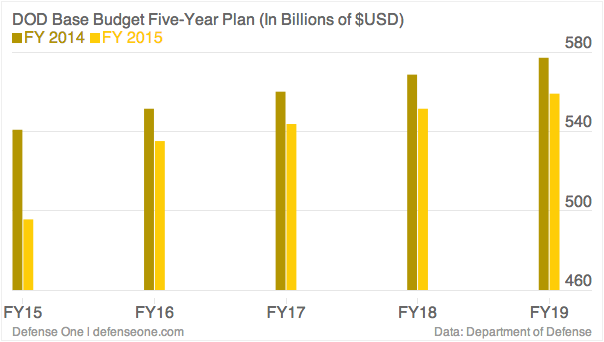 The fiscal 2015 budget reduces the size of the Army to somewhere between 440,000 and 450,000 soldiers. The Marines will drop to 182,000. The Navy will maintain 11 carrier strike groups, but plans for anything beyond 32 littoral combat ships will be put on hold. The Air Force will continues plans to build a new bomber, refueling tanker and the F-35, but the A-10 close combat fleet will be retired. The U-2 bomber will be replaced with the unmanned Global Hawk system, and the Predator and Reaper drone fleet would grow by 55, down from a planned 65. Additionally, the Pentagon plans fewer purchases of C-130 cargo planes, V-22 Osprey aircraft, Apache and Chinook helicopters and P-8 Poseidon aircraft. As was announced last week, the Pentagon plans to divest the Kiowa Warrior helicopter, which was a familiar low-altitude friend to Iraq combat veterans, and replace them with Apache helicopters and drones shifted over from the National Guard and Reserve.
The budget allows for a 1 percent pay increase for FY15, but freezes pay for general and flag officers. Housing allowances will slow until they reach a 5 percent out-of-pocket contribution. Subsidies for military commissaries will be reduced by $1 billion and TRICARE co-pays will increase.
[READ MORE: Pentagon's Post-War Budget Marks End of War Era]
Defense officials said the budget is in line with the 2014 Quadrennial Defense Review, also released Tuesday, which outlines the military's strategy. "This QDR defines the historic transition unfolding throughout our defense enterprise. As we move off the longest continuous war footing in our nation's history, this QDR explains how we will adapt, reshape and rebalance our military for the challenges and opportunities of the future," Hagel said. "Today's world requires a strategy that is neither budget driven nor budget blind. We need a strategy that can be implemented with a realistic level of resources and that is what this QDR provides."
Rep. Buck McKeon, R-Calif., chairman of the House Armed Services Committee, slammed both his fellow Republicans for allowing sequestration's spending limits to hamper defense spending, and the president for a "compulsion to continually trade national security for financial responsibility, while getting neither."
"I share the broad dismay about the shrinking might of the military reflected in this budget," he said. "The proposal being delivered today is the result of a hard fought bi-partisan compromise. It averted another year of arbitrary gutting of the armed forces. But we must recognize that it was only a two year deal and it still represents another $45 billion cut to the military for 2015. If we don't like the tough choices on the table, then shame on us as Republicans for following the president down this path."
[Eds Note: This story will be updated throughout the day.]