Reserve, Guard Soldiers Committing Suicide at Higher Rates
The good news is military suicides declined last year. The bad news is Army Guard and Reserve numbers are higher than previously thought. By Ben Watson
The Pentagon has some mixed news on military suicides: there was an overall decline of roughly 15 percent in 2013. But, in a likely reflection of the increased strain on America's reserve component over the past 12 years, more Army National Guard and Reserve soldiers took their life last year than those on active duty, according to the Associated Press .
After implementing some 900 different programs to prevent suicide in their ranks, the military's active duty suicide numbers declined from a record high of 343 in 2012 to 289 in 2013. More than half those came from the active duty side of the Army, the Pentagon's largest branch. But the fact that last year's Guard and Reserve suicides—152, up from 140 the previous year— eclipsed active duty numbers is concerning researchers and veteran advocacy groups.
"There's a growing amount of data—including our own research—that the Guard and Reserve soldiers are unique, with different stressors and problems," Dr. Craig Bryan, executive director of the National Center for Veteran Studies told Defense One .
"They're more likely to be living in rural areas and in smaller communities where there isn't necessarily a high density of other military families," Bryan said. "Some might have to drive many hours for treatment and support specific to veterans under the [Department of Veterans Affairs] system. They have to take a day off civilian job to seek treatment. That's very different from an active duty soldier driving across the street or on the other side of base to seek help."
Reserve personnel also tend to be older, Bryan said, and they have other professions and careers. "When mobilized, they have to give up or walk away from those jobs. So there's a disruption within that day-to-day job or career. And when they deploy, there are different implications at stake and a different kind of impact on their day-to-day life, especially in terms of the social environment."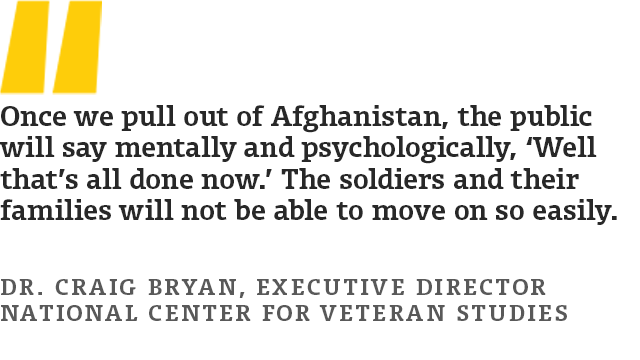 Being in combat tends not to be as dominant a factor as previously thought in terms of the problems a lot of service members face when returning from time away from family, Jackie Maffucci, research director for the Iraq and Afghanistan Veterans of America, told Defense One . Failed relationships, encounters with law enforcement and financial considerations all factor in as well, she said.
"We're looking at a Reserve Component that is a bit more geographically dispersed, their community of support is often very different from the active duty side," she said. "These are all really important things to consider as they're transitioning home, and it shows a continued need to focus efforts on this really complex issue and put together a really comprehensive approach to those issues."
(READ MORE: Congress Must Pass the Veteran Suicide Prevention Bill )
"We would hope the nation would take note, and be outraged and get behind our veterans and service members to help provide a community-based network of care," Maffucci said. "We have to make sure early on we're identifying those who need help and make sure they can get that help."
"It's not going to go away," Bryan added. "Once we pull out of Afghanistan, the public will say mentally and psychologically, 'Well that's all done now,' and is likely to have moved on from the issue. The soldiers and their families will not be able to move on so easily."
Suicides in the military began to rise in 2006 and steadily rose for three years. Drawn down operations in Iraq were believed to have helped level off those deaths in 2009—but the number spiked again in 2011, the year after there was a surge of troops sent to Afghanistan.
Guard and Reserve troops aren't the only alarming statistics. Earlier this month, Special Operations Commander Adm. William McRaven told a symposium in Tampa, Fla., "The last two years have been the highest rate of suicides we have had in the special operations community, and this year I am afraid we are on the path to break that." Precise figures for the special operations community have not been released.
In February, the VA released their own report announcing that 22 veterans commit suicide every day. Some critics feel that number could very well be higher since the VA's report only used data from 21 states spanning from 1999 to 2011.