US Hits Syrian Airbase With Scores of Cruise Missiles
A retaliation for the Assad regime's April 4 use of chemical weapons, the strike deepens the U.S. involvement in Syria's civil war.
U.S. Navy warships have launched scores of cruise missiles at a Syrian airbase, marking a new escalation in the United States' involvement in the country's civil war.
A U.S. official told reporters that 59 Tomahawk missiles, fired from the guided missile destroyers Ross and Porter in the Mediterranean Sea, struck aircraft, hangars, fuel and ammunition stores, air defenses, and radars at Shayrat Air Base, the facility from which Syrian government forces took off to drop chemical weapons two days ago. The U.S. attack took place about 4:40 a.m., on April 7, Syrian time. (8:40 p.m. Washington time).
"We are assessing the results of the strike," said Navy Capt. Jeff Davis, a Pentagon spokesman. "Initial indications are that this strike has severely damaged or destroyed Syrian aircraft and support infrastructure and equipment at Shayrat Airfield, reducing the Syrian Government's ability to deliver chemical weapons."
"Destroying Shayrat airbase is no minor strike," said Neil Hauer, Middle East analyst for Ontario-based SecDev. Shayrat is "one of the largest and most active Syrian Air Force bases, with large number of assets," including surface-to-air missiles.
The Russian military has a presence at the base, but the strikes avoided those areas, Davis said. The Russian military was notified of the U.S. strike in advance through the same hotline the two counties use to notify each when carrying out strikes against ISIS in Syria.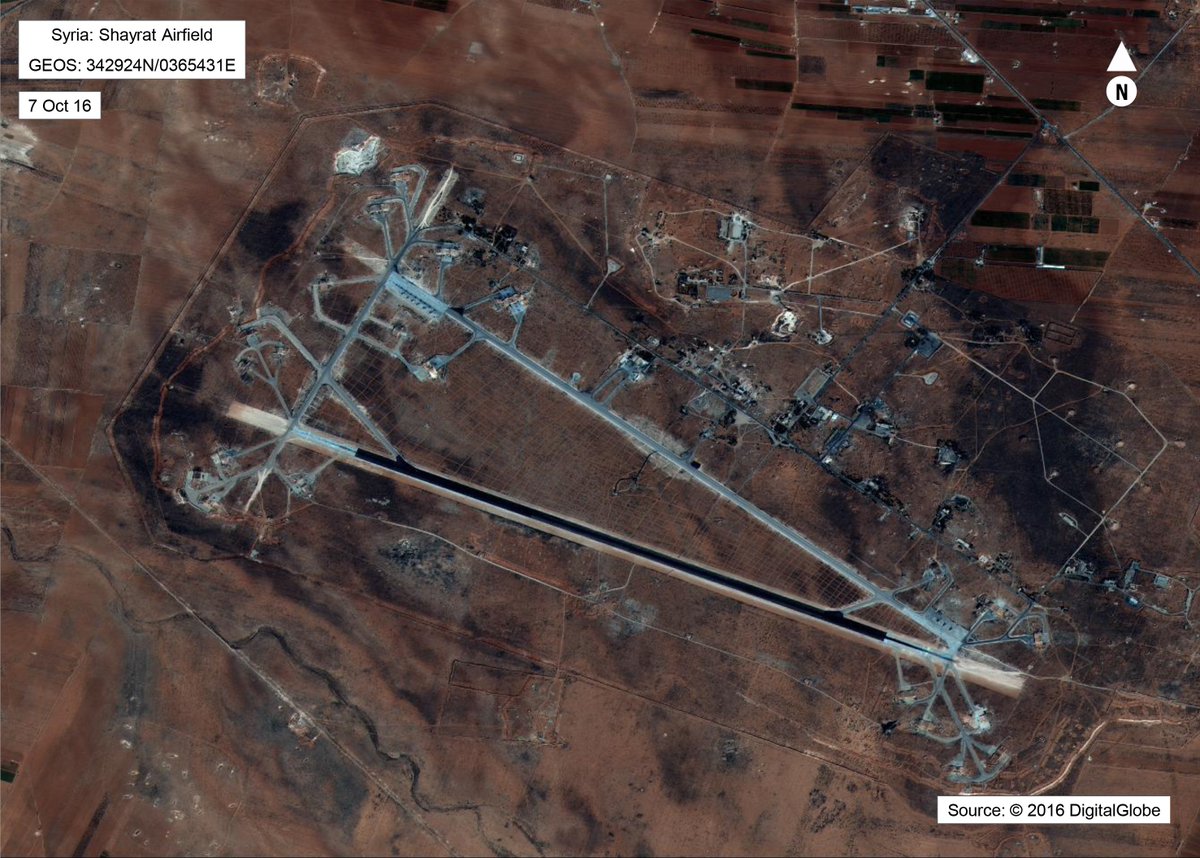 Above: a Pentagon aerial photo of the Shayrat airfield, taken last fall.
---
Noted naval blogger Cmdr. Salamander called the base "just about a perfect place to attack with TLAM [Tomahawks]. The targeting is almost school-house training classic. It is well away from most Russian forces, and the approach to the target given the range give you enough options to avoid even flying over their main units with a wide separation."
Several members of Congress said they had been advised of the strike just before or as it was happening. The attack drew support from a swath of senators and representatives on both sides of the aisle, but also renewed calls for the Trump administration to engage with legislators on its war strategy in Syria and Iraq. Ranking member of the House Intelligence Committee Rep. Adam Schiff, D-Calif., said he would reintroduce legislation for a new congressional authorization of military force — though that won't be until April 25, when they return from recess.
"The question now is what the consequences and reactions will be, and what are the President's strategic and long-range goals and plans with respect to U.S. involvement in Syria?" Sen. Jack Reed, D-R.I., ranking member of the Armed Services Committee, said in a statement. "The Administration is also going to have to set out the legal justification for tonight's action and any future military operations against the Assad regime as part of its consultations with Congress."
It is in this vital national security interest of the United States to prevent and deter the spread and use of deadly chemical weapons.
President Donald Trump
After the strikes, President Donald Trump read a statement at his Florida resort: "On Tuesday Syrian dictator Bashar al-Assad launched a horrible chemical weapons attack on innocent civilians. Using a deadly nerve agent, Assad choked out the lives of helpless men, women and children. It was a slow, brutal death for so many. Even beautiful babies were cruelly murdered in this very barbaric attack. No child of God should suffer such horror.
"Tonight I ordered a targeted military strike on the airfield in Syria from where the chemical attack was launched. It is in this vital national security interest of the United States to prevent and deter the spread and use of deadly chemical weapons. There can be no dispute Syria used banned chemical weapons, violated its obligations under the Chemical Weapons Convention, and ignored the urging of the UN Security Council. Years of previous attempts of changing Assad's behavior have all failed, and failed very dramatically."
---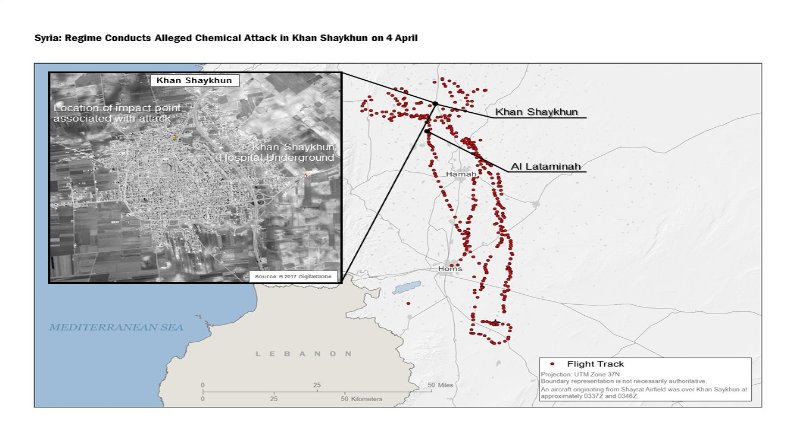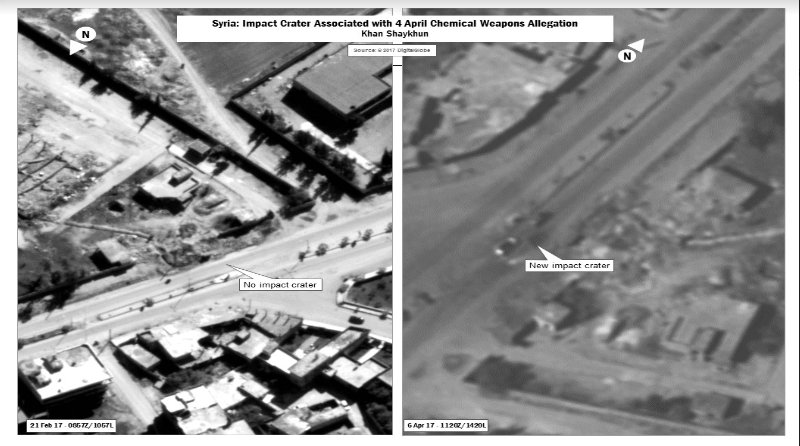 The Pentagon says these documents detail the flight path of the Syrian warplanes that carried out chemical weapons attack on Tuesday.
---
"As a result, the refugee crisis continues to deepen, and the region continues to de-stabilize, threatening the United States and its allies," the president continued. "Tonight I call on all civilized nations to join us in seeking to end the slaughter and bloodshed in Syria. And also to end terrorism of all kinds and all types."
Caroline Houck contributed to this report.