Author Archive
Marcus Weisgerber
Global Business Editor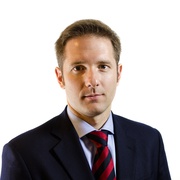 Marcus Weisgerber is the global business editor for Defense One, where he writes about the intersection of business and national security. He has been covering defense and national security issues for more than a decade, previously as Pentagon correspondent for Defense News and chief editor of Inside the Air Force. He has reported from Afghanistan, the Middle East, Europe, and Asia, and often travels with the defense secretary and other senior military officials.
Business
But can the Super Hornet's star turn keep the production line open?
---
Policy
Air Force acquisition chief cites 2- to 3-year delay, which Boeing blames on subcontractor and supply problems.
Threats
Three different U.S. weapons have now demonstrated successful hypersonic flight.
Business
Marcus Weisgerber and Jacqueline Feldscher
Business
It's the first investment by the aerospace and defense giant's new venture arm.
Exclusive
Business
Internal email reveals U.S. company's pressure to deny Europeans' application to powerful trade group.
Threats
Defense Department's top acquisitions exec says Ukraine war is changing the way the U.S. thinks about stockpiles.
Marcus Weisgerber and Tara Copp
Business
The company has lost billions of dollars and the pandemic is making things worse.
Business
The company revealed that it has lost $660 million outfitting the next presidential jets—so far.
Business
The U.S. has been sending its Stingers to Ukrainian forces battling Russia.
Business
More than one-quarter of recent jets are arriving behind schedule, but ahead of planned components that will require costly retrofits, the watchdog says.
Ideas
Defense One's Marcus Weisgerber discusses the multi-national effort to arm Ukraine, and Tanisha Fazal shares her concerns about international norms, Putin's legacy, and a possible return to an age of conquest.
Ben Watson and Marcus Weisgerber
Exclusive
Policy
The restructure gives two new deputies to the assistant secretary for industrial policy—and "dissolves" another.
Exclusive
Policy
It's unclear why Jesse Salazar has left, the latest in a string of recent Pentagon departures.