Author Archive
Marcus Weisgerber
Global Business Editor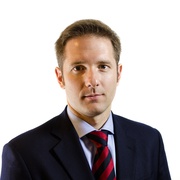 Marcus Weisgerber is the global business editor for Defense One, where he writes about the intersection of business and national security. He has been covering defense and national security issues for more than a decade, previously as Pentagon correspondent for Defense News and chief editor of Inside the Air Force. He has reported from Afghanistan, the Middle East, Europe, and Asia, and often travels with the defense secretary and other senior military officials.
Business
It's part of Lockheed's push to network all of its weapons.
Policy
The Defense Department says the federal contractor vaccine order supersedes state laws.
---
Policy
Heidi Grant was the first civilian to lead the Defense Security Cooperation Agency.
Business
On Wednesday, Lockheed Martin will attempt to fire a new weapon nearly 500 kilometers.
Business
The move dramatically increases the horsepower of the V-280 over the General Electric engines it uses today.
Business
The manufacturing plant is the third digital factory opened by the world's largest defense contractor this year.
Business
Former Air Force Secretary Deborah Lee James named chair of the diverse advisory board.
Business
The sobering numbers offer a snapshot of defense contractors' struggle to get workers vaccinated.
Policy
The concept image is "just something that's on a paper," according to Air Force acquisition official.
Threats
Frank Kendall also criticized Congress for not allowing the Air Force to retire old, unneeded warplanes and questioned the need for hypersonic weapons.
Business
More outsourcing, more services contracts, more generals on corporate boards—and that's just for starters.
Threats
And that figure could rise as the Defense Department starts mandatory COVID-19 testing for unvaccinated civilian workers.
Business
The planes are not part of the Civil Reserve Air Fleet activation, but are flying similar routes.