Author Archive
Marcus Weisgerber
Global Business Editor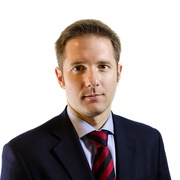 Marcus Weisgerber is the global business editor for Defense One, where he writes about the intersection of business and national security. He has been covering defense and national security issues for more than a decade, previously as Pentagon correspondent for Defense News and chief editor of Inside the Air Force. He has reported from Afghanistan, the Middle East, Europe, and Asia, and often travels with the defense secretary and other senior military officials.
Business
State Department's political-military leader sees mixed signals from abroad.
Business
The company's defense business is one bright light.
---
Business
CEO Taiclet wants a leading role as U.S. and allied militaries build out their next-gen mobile networks.
Business
Executives drop some not-so-subtle clues.
Business
For the second time in two years, the Army had to stop accepting Boeing's attack helicopter. The exact reason remains unknown.
Business
'You can't run an assembly line from your desktop at home.'
Threats
Was Ankara using its Russian air-defense system to track a NATO ally?
Marcus Weisgerber and Katie Bo Williams
Policy
He says it's affordable, but key details remain unknown.
Marcus Weisgerber and Bradley Peniston
Business
The bogus Trump-COVID-E-6B connection reminds us to be wary of ascribing meaning to coincidence.
Science & Tech
NASA's astronaut program is the quickest way to space for military personnel. 
Business
One congressman suggests contracting ship maintenance work to private yards or even working with allies.
Business
The House NDAA would require major defense programs to be all-American by 2026.
Business
Officials are mum, so here's a roundup of clues.