Author Archive
Marcus Weisgerber
Global Business Editor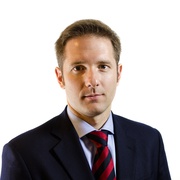 Marcus Weisgerber is the global business editor for Defense One, where he writes about the intersection of business and national security. He has been covering defense and national security issues for more than 16 years, previously as Pentagon correspondent for Defense News and chief editor of Inside the Air Force. He has reported from Afghanistan, the Middle East, Europe, and Asia, and often travels with the defense secretary and other senior military officials. Marcus' work has been cited by the New York Times, Washington Post, Los Angeles Times and many other U.S. and international publications. He has provided expert analysis on BBC, CNN, Fox News, MSNBC, NPR, SiriusXM and other television and radio networks. In 2018, he won a Neal Award for his coverage of the Pentagon and defense industry. Marcus served as vice president of the Pentagon Press Association from 2015 to 2022. An avid hockey fan, Marcus earned a bachelor's degree in English/Journalism from the University of New Hampshire.
Defense Systems
The company says the U.S. government has operationally tested the weapon.
---
Policy
As allies' needs soar, officials are racing to get a clearer picture of what's available.
Business
Two types of unmanned boats may become three, officials said.
Ideas
In this episode, we review several things we learned at the Air & Space Forces Association's biggest annual event.
Ben Watson, Audrey Decker, Lauren C. Williams and Marcus Weisgerber
Threats
Among the draws: space-based gear can often be built and launched faster than aircraft can be modified.
Business
The head of U.S. Transportation Command says blended wing body designs could provide more efficient, especially if they can fly from existing airports.
Business
The service will abandon one modernization effort in favor of a more sophisticated upgrade.
Business
The acquisition marks the California-based startup's expansion from software to military weapons.
Business
The United States has given Ukraine more than 10,000 of the weapons so far as they fight against the Russian invasion.
Business
Meanwhile, Leonardo DRS is eyeing new ships for its electric-drive technology.
Policy
The decision to keep the command at its current home in Colorado will surely enrage Alabama politicians.
Marcus Weisgerber and Bradley Peniston
Exclusive
Business
In an interview, the new president of what is now a segment of L3Harris Technologies also touted the rocket-maker's workforce.
Business
Anduril and Epirus combined forces for a system they pitched to U.S. Marines.
Business
The Federal Trade Commission decided not to block the deal, L3Harris told investors Wednesday.
Business
The company has received $2 billion in replenishment orders so far, and expects $2.5 billion more in the next year.