The Islamic State's Caliphate Is Finished in Iraq, Abadi Says
In a symbolic victory, Iraqi security forces finally took back the ancient mosque where ISIS declared its caliphate back in 2014. Other operations throughout the country are still ongoing.
Iraqi special forces carried out a pre-dawn assault on one of the last remaining neighborhoods of Mosul, Iraq, retaking the ruins of an ancient mosque ISIS detonated last week.
The advance effectively ends the Islamic State's "caliphate" announced from that very mosque exactly three years ago.
"Exploding the al-Nuri mosque and al-Hadba minaret by ISIS, and its return to the nest of the homeland today is the declaration of the end of the ISIS statelet," Prime Minister Haider Al-Abadi announced in Arabic, translated from his Facebook page.
Still, ISIS fighters remain in two primary pockets of Mosul: the Old City and the al-Jamouri Hospital complex, coalition spokesman U.S. Army Col. Ryan Dillon said Thursday on Twitter.
In all, ISIS has lost more than 84,000 square kilometers since it stormed across Syria's border and into Iraq in 2014.
After more than 1,300 airstrikes during the Mosul offensive, Iraq and its allies are feeling increasingly confident they can finish the job across the country — but exactly when is still anyone's guess.
"This Coalition is on a fixed course, with a sound and proven strategy, committed to the military defeat of ISIS in Iraq and Syria," Dillon wrote on Twitter.
The U.S.-led coalition has dropped more than 29,000 bombs and missiles during the Mosul offensive, which began on October 17, 2016, CENTCOM told Defense One . "These munitions have destroyed 359 VBIEDs [car bombs], 781 buildings and facilities, 225 tunnels, 1,006 vehicles, 1,700 bunkers, 48 [anti-aircraft artillery], 685 artillery and mortar systems and 279 boats and barges."
The toll on civilians has been enormous. The monitoring group, Airwars, estimates nearly 1,800 civilian deaths have occurred from airstrikes alone near Mosul in just the first three months of the year.
But there's more to be done, and not just in Mosul. The Iraqi-based Nineveh Media Center has been mapping the coalition's advance inside the city for months. Their most recent edition, published Thursday, showed nearly a third of Mosul's Old City is still in ISIS control.
Map of old Mosul
29-6-2017 / 06:35pm @hushamalhashimi @CENTCOMArabic @USEmbBaghdad @CoalitionAR pic.twitter.com/4EFJvwaEjU

— مركز نينوى الاعلامي (@NinevehMC) June 29, 2017
Beyond Mosul, ISIS is holding on to territory to the south — around Hawija — and in the western Anbar province's Euphrates River valley.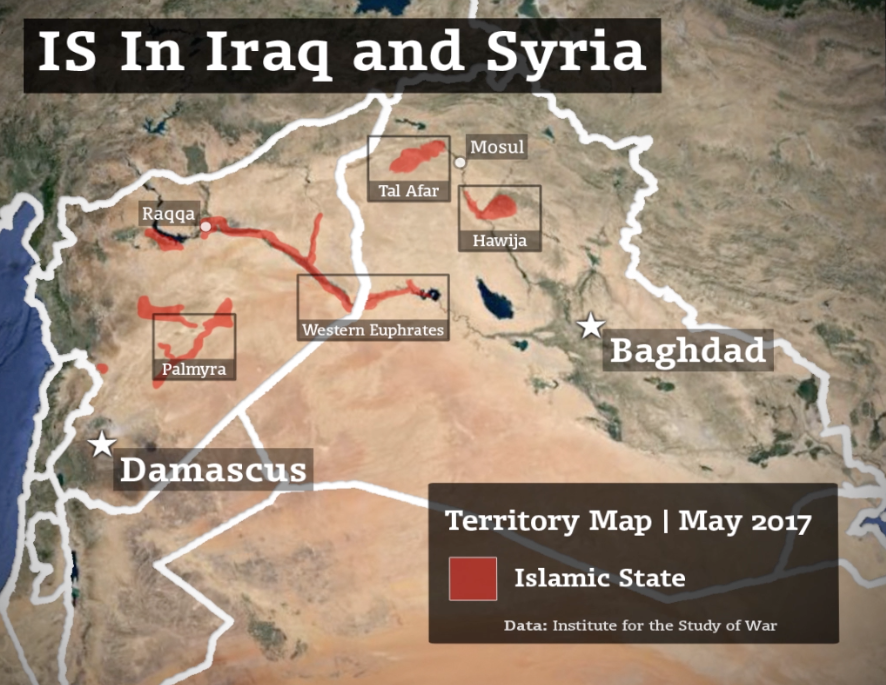 Said Abadi of what remains to be done: We will continue to pursue ISIS in Iraq until the last fighter is either murdered or captured.
Check out a photo feature of the battle for Mosul, curated Wednesday by The Atlantic .