Author Archive
Marcus Weisgerber
Global Business Editor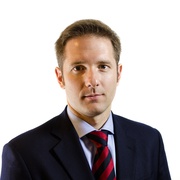 Marcus Weisgerber is the global business editor for Defense One, where he writes about the intersection of business and national security. He has been covering defense and national security issues for more than a decade, previously as Pentagon correspondent for Defense News and chief editor of Inside the Air Force. He has reported from Afghanistan, the Middle East, Europe, and Asia, and often travels with the defense secretary and other senior military officials.
Policy
Bill LaPlante has spent the past six years working on military-related tech.
Policy
Nation's largest military shipbuilder says it won't comply until mandate is written into a contract.
Policy
The Biden administration has not even nominated a defense undersecretary of acquisition and sustainment.
---
Business
Higher salaries and more expensive weapons looming large as the Defense Department assembles next budget proposal.
Threats
A Ronald Reagan Institute task force says the government needs to spend more on job training and manufacturing infrastructure.
Science & Tech
The company fired the drone's afterburning engine during a ceremony in Atlanta.
Policy
Defense firms had warned of layoffs and weapons-manufacturing delays.
Business
The companies recently connected a military communications network to a commercial 5G network.
Business
Some Republican lawmakers say the requirement will compromise national security.
Business
CEO Jim Taiclet also said the company's purchase of Aerojet Rocketdyne is delayed.
Business
But CEO Greg Hayes says his business will boom if everyone would just get the shot.
Business
It's part of Lockheed's push to network all of its weapons.
Policy
The Defense Department says the federal contractor vaccine order supersedes state laws.
Policy
Heidi Grant was the first civilian to lead the Defense Security Cooperation Agency.