Author Archive
Marcus Weisgerber
Global Business Editor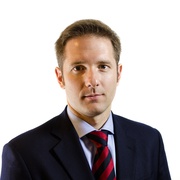 Marcus Weisgerber is the global business editor for Defense One, where he writes about the intersection of business and national security. He has been covering defense and national security issues for more than 16 years, previously as Pentagon correspondent for Defense News and chief editor of Inside the Air Force. He has reported from Afghanistan, the Middle East, Europe, and Asia, and often travels with the defense secretary and other senior military officials. Marcus' work has been cited by the New York Times, Washington Post, Los Angeles Times and many other U.S. and international publications. He has provided expert analysis on BBC, CNN, Fox News, MSNBC, NPR, SiriusXM and other television and radio networks. In 2018, he won a Neal Award for his coverage of the Pentagon and defense industry. Marcus served as vice president of the Pentagon Press Association from 2015 to 2022. An avid hockey fan, Marcus earned a bachelor's degree in English/Journalism from the University of New Hampshire.
Policy
Sikorsky and Boeing are protesting the service choosing a Bell-made tiltrotor, and lawmakers are angry.
Business
February and March should bring contracts to replace weapons sent to Ukraine, acquisition chief says.
---
Policy
Logistical details must be hashed out in the wake of Biden's pledge.
Threats
Ben Watson and Marcus Weisgerber
Business
Lockheed, Raytheon chiefs also say pandemic-era supply-chain woes are subsiding.
Business
Five countries have ordered the fighter jet's Block 70 variant, and the company is looking for more customers.
Business
Company also names Christopher Calio president.
Policy
German, U.S. officials deny that Berlin would relent if the Pentagon donates Abrams tanks.
Policy
AIA letter begs lawmakers to avoid another sequestration deal.
Science & Tech
Thales says its Advanced Acoustic Concepts towed sensors can be installed in just two days.
Threats
Carlos Del Toro's comments come as an admiral accuses weapons makers of using the pandemic as an excuse for not delivering arms on time.
Business
Chicken sandwiches and WiFi, for starters, says the head of Ingalls Shipbuilding.
Policy
The biggest U.S. aid package yet reflects new realities on the ground.
Patrick Tucker and Marcus Weisgerber
Business
The Government Accountability Office has 100 days to review the deal.
Ideas
We review the year that was and preview what might lie ahead for the U.S., Europe, and the wider global defense industry.
Kevin Baron and Marcus Weisgerber