Author Archive
Marcus Weisgerber
Global Business Editor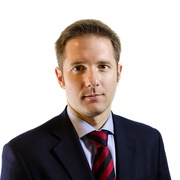 Marcus Weisgerber is the global business editor for Defense One, where he writes about the intersection of business and national security. He has been covering defense and national security issues for more than a decade, previously as Pentagon correspondent for Defense News and chief editor of Inside the Air Force. He has reported from Afghanistan, the Middle East, Europe, and Asia, and often travels with the defense secretary and other senior military officials.
Business
More layoffs, production slowdowns and factory closures are being considered, executives said.
---
Business
It's 'a hell of a lot worse than what we originally projected,' says the head of the new company formed by the United Technologies-Raytheon merger earlier this year.
Threats
Kevin Baron, Ben Watson and Marcus Weisgerber
Policy
US says changes needed to compete with China, but critics say it may only alienate allies.
Patrick Tucker and Marcus Weisgerber
Business
During a House Oversight and Reform Committee hearing, one Democrat questioned defense firms access to coronavirus stimulus money.
Business
And Jim Taiclet wants the government to underwrite its new direction.
Business
That's unless the Air Force can find a way to keep both competition and the few remaining U.S. plane-makers alive, the service's acquisition chief said.
Business
It's the first time a defense official has put a specific price tag on DoD's COVID relief efforts.
Threats
Ben Watson, Marcus Weisgerber and Bradley Peniston
Business
Part 4: From the size of the US military to outdated 'legacy' weapons, experts say something has to give.
Policy
Nukes or conventional weapons, "the current budget does not allow you to do both," says Gen. Dave Goldfein, suggesting Congress create a separate account.
Business
Now the company has its sights on Marine Corps, international, and more Army contracts.
Business
The company also says it sent $1.1 billion in accelerated payments to keep suppliers afloat amid COVID-19.
Policy
The president also claims he's made the service's ships more beautiful.