Author Archive
Marcus Weisgerber
Global Business Editor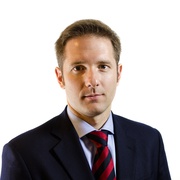 Marcus Weisgerber is the global business editor for Defense One, where he writes about the intersection of business and national security. He has been covering defense and national security issues for more than 16 years, previously as Pentagon correspondent for Defense News and chief editor of Inside the Air Force. He has reported from Afghanistan, the Middle East, Europe, and Asia, and often travels with the defense secretary and other senior military officials. Marcus' work has been cited by the New York Times, Washington Post, Los Angeles Times and many other U.S. and international publications. He has provided expert analysis on BBC, CNN, Fox News, MSNBC, NPR, SiriusXM and other television and radio networks. In 2018, he won a Neal Award for his coverage of the Pentagon and defense industry. Marcus served as vice president of the Pentagon Press Association from 2015 to 2022. An avid hockey fan, Marcus earned a bachelor's degree in English/Journalism from the University of New Hampshire.
Threats
Ben Watson, Marcus Weisgerber, Bradley Peniston and Jennifer Hlad
---
Business
It's unclear how the sides came to agreement, or just how late the two Virginia-class subs will eventually arrive.
Business
The moves reflect the growing space market and particularly the military's demand for speed.
Business
Anduril says its product will enable U.S. forces to employ more capable, more autonomous—and just plain more—drones.
Threats
Tensions with Iran, Russia have CENTCOM calling upon the venerable Warthog once again.
Threats
"Don't take the bait," the region's top Air Force general warns pilots.
Business
With more than 70 percent of the planned fleet already ordered, the plane remains a financial burden.
Business
After slamming an earlier proposal for the rocket maker, Greg Hayes is taking a different tack.
Ideas
Day 3 of the conference brought warnings about China and Russia—and of a "subtle complacency" at home.
Policy
Frank Kendall wants freedom from rules that require lawmakers' approval to get anti-China weapons off the ground.
Threats
As friendly countries buy and develop their own satellites, they're increasingly worried about protecting them, an Air Force leader said.
Business
The deal will help speed up manufacturing of Javelin, Stinger, and GMLRS rockets.
Business
The Army found Sikorsky-Boeing's offering too vague, a new GAO document says.