Author Archive
Marcus Weisgerber
Global Business Editor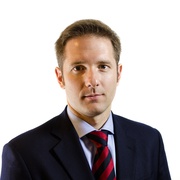 Marcus Weisgerber is the global business editor for Defense One, where he writes about the intersection of business and national security. He has been covering defense and national security issues for more than 16 years, previously as Pentagon correspondent for Defense News and chief editor of Inside the Air Force. He has reported from Afghanistan, the Middle East, Europe, and Asia, and often travels with the defense secretary and other senior military officials.
Business
The company and its partner Northrop Grumman were chosen over bids from Boeing and Lockheed Martin.
Threats
Kyiv's winter wishlist includes long-range artillery, armored Humvees, kamikaze drones, and more.
---
Threats
The strategic bomber has been developed in near-total secrecy at Northrop Grumman's plant in Palmdale, California.
Threats
Frank Kendall said Russia's botched invasion should give Beijing pause.
Policy
Frank Kendall said he's reversing planned cuts to special duty pay.
Business
The three-year-old twinjet will be an "agile tanker," L3Harris CEO says.
Ideas
The Air, Space, and Cyber conference kicks off outside Washington, D.C.
Business
The company hopes the military will test its tech during an upcoming exercise.
Policy
One trade association says Pentagon would lose $110 billion in buying power.
Policy
Meanwhile, service officials are working with Pentagon leaders on 18-month plans to supply Ukraine.
Threats
Bill LaPlante also praised the quick "innovation" that delivered truck-mounted Harpoon missiles to Ukraine.
Science & Tech
The December test was part of the effort to equip B-2 bombers to fire the stealthy JASSM-ER.
Business
But the multibillion-dollar deals raise questions about just how far along the Next Generation Air Dominance program is.
Threats
The latest weapons package includes MRAPs with special landmine-clearing devices–and brings the total to $10.7 billion.
Marcus Weisgerber and Tara Copp
Business
The White House-backed compact is also part of an effort to make supply chains more resilient.