Author Archive
Marcus Weisgerber
Global Business Editor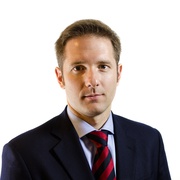 Marcus Weisgerber is the global business editor for Defense One, where he writes about the intersection of business and national security. He has been covering defense and national security issues for more than a decade, previously as Pentagon correspondent for Defense News and chief editor of Inside the Air Force. He has reported from Afghanistan, the Middle East, Europe, and Asia, and often travels with the defense secretary and other senior military officials.
Business
There have been some informal discussions about requiring the shot.
Business
Company will press ahead on aeronautics project in hopes of turning it into a profitable production program.
---
Business
Ursa Major is developing a family of rocket engines for commercial and defense customers.
Business
Jim Taiclet has been forming alliances with commercial firms in an attempt to give Lockheed a leg up over its competitors.
Policy
Wallace is to meet with the CEO of General Dynamics, maker of the Ajax light tank.
Business
Bath Iron Works told Deputy Defense Secretary Kathleen Hicks it will need to cut its workforce by 2,500 if more ships aren't ordered soon.
Threats
Ben Watson and Marcus Weisgerber
Business
Deputy Defense Secretary Kathleen Hicks was briefed about the new tankers at a New Hampshire base Wednesday.
Policy
The Lightning II beat out the Boeing Super Hornet, Dassault Rafale, and Eurofighter Typhoon.
Exclusive
Business
The policy was created to shore up pandemic-weakened supply chains.
Business
Tim Keating was close to CEO fired in 2019.
Business
Some lawmakers want the Air Force to terminate its KC-46 contract with Boeing.