Author Archive
Marcus Weisgerber
Global Business Editor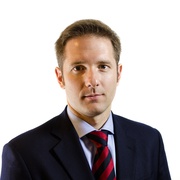 Marcus Weisgerber is the global business editor for Defense One, where he writes about the intersection of business and national security. He has been covering defense and national security issues for more than a decade, previously as Pentagon correspondent for Defense News and chief editor of Inside the Air Force. He has reported from Afghanistan, the Middle East, Europe, and Asia, and often travels with the defense secretary and other senior military officials.
Business
"Definitely a setback" said Lt. Gen. Duke Richardson, the U.S. Air Force's deputy weapons buyer, as Boeing legal battle delays production.
Science & Tech
Just four fighters will make up the future fleet: F-35, F-16, F-15EX, and NGAD, chief says.
Marcus Weisgerber and Tara Copp
---
Business
The White House could submit its defense budget request later than any administration in at least a century.
Policy
New memos suggest office space occupancy may never return to 100 percent.
Marcus Weisgerber and Tara Copp
Business
Boeing has fired GDC Technics, which is suing its erstwhile employer.
Policy
Former Pentagon acquisition chief has relevant experience defining threats and modernization needs, colleagues say.
Marcus Weisgerber and Tara Copp
Policy
"Get us the numbers before May 10," Rep. Adam Smith said Tuesday.
Policy
"Skinny budget" announcement hints at cuts to troop levels and existing weapons.
Business
The company is not requiring employees to get the shots, but some facilities could be off-limits to the unvaccinated.
Business
The Air Force called the ARRW failure "a setback."
Policy
A former comptroller would return to the job if the Senate approves.
Science & Tech
But Jeremy Quin declined to say whether the 138-jet goal remains unchanged.
Business
Air warfare chief: "I believe the L-class ships operating with the F-35B fit that bill."
Policy
'Running for the exits pell-mell by May 1 is dangerous,' said HASC Chairman Rep. Adam Smith, who backs pulling out 'responsibly.'